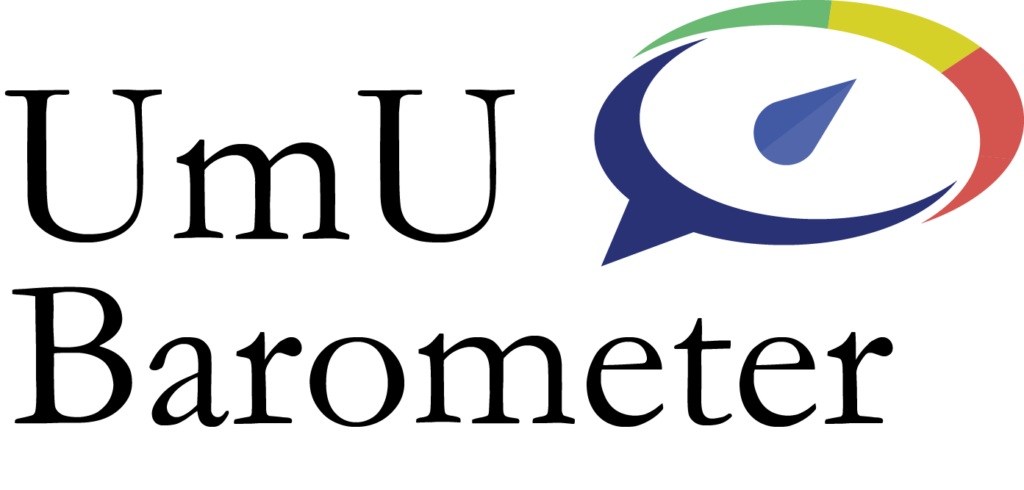 UmU-Barometer: A longitudinal cohort study of university students
The purpose of the UmU-Barometer is to increase knowledge about what students at Umeå University think about important issues during their time here. The survey focuses on attitudes about society, but it also contains questions about politics, the environment, the university as well as student experiences. The survey is conducted by the Department of Sociology at Umeå University.
If you choose to participate, you will be asked to answer a short questionnaire once each semester; survey responses will be linked to information about education program and degree progress. Your answers will be handled anonymously and stored securely. Survey results will be published only in the form of figures and tables, meaning neither your individual responses nor anyone else's will be identifiable in any of the results.
Your participation is voluntary, but in order to get reliable results, it is important that everyone who is invited participates. The survey questions are not difficult to answer and most people find answering them interesting and rewarding. There are no right or wrong answers, only what YOU think.
Results from the first wave of the UmU-Barometer
The first wave of the UmU-Barometer was conducted in October 2020 and more than 3000 individuals participated in the survey. You can read more about the results from the study in the report "Results from the UmU-Barometer" below.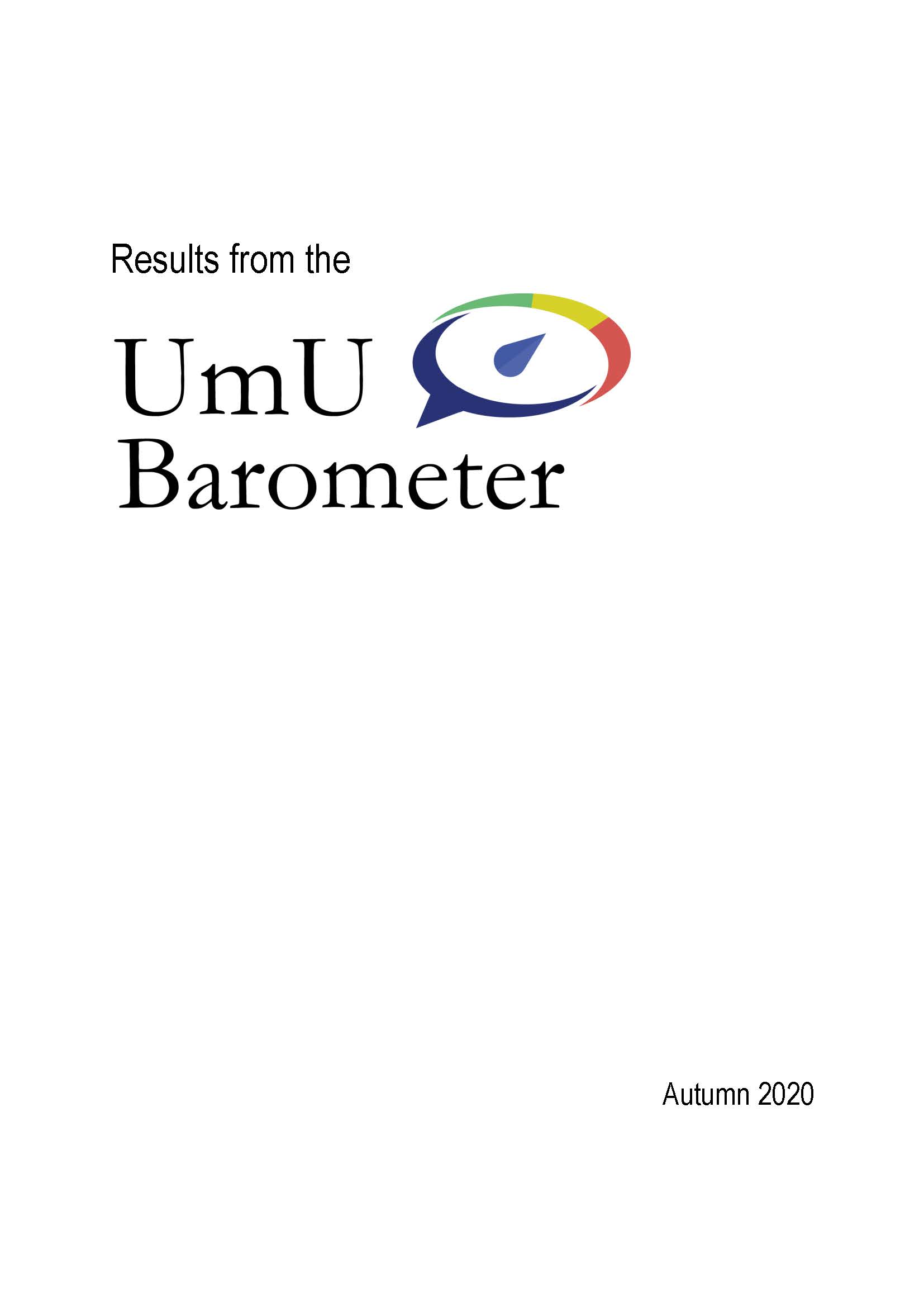 Contact us
You are welcome to contact us at the UmU-Barometer if you have questions or if you want to know more about the survey.
UMU BAROMETER DATA SECURITY
If the information in English is different from the Swedish version, it is the Swedish version that applies.
The UmU-Barometer is a survey of social attitudes, opinions and behaviors among students at Umeå University.
Protecting your personal information is important to us. This text describes what we do with the information we collect and store.
Why are we contacting you?
You have been accepted for studies at Umeå University. All individuals newly admitted to a course or a program at the university are asked to participate in this survey.
Your participation in the UmU-Barometer
In the survey, we ask questions about you and your opinions. The questions focus on social relations in Swedish society, but the survey also includes questions about politics, the environment, the university and you.
Your participation in the survey is voluntary. You may skip any questions you do not want to answer, and you can cancel your participation at any time without giving any explanation. Your answers from the survey will be stored electronically and securely.
If you decide not to participate
If for any reason you decide not to participate in the survey, you do not need to do anything.
What happens to the information collected?
• We will treat all information about you in strict confidence and in accordance with the EU Data Protection Regulation (GDPR) and national data protection laws.
• Only Umeå University will have access to your contact information, which is the e-mail address you registered in LADOK. The responsible researchers do not have access to your e-mail address.
• When the survey is completed, your answers will be stored on Umeå University's data collection platform (DIP). For more information: https://manual.its.umu.se/vad-ar-dip/
Only the four researchers named below have access to yours and others' answers.
• Your email address will be deleted when data collection is complete, no later than December 2023.
• The remaining parts of the collected data material will be saved on the Swedish National Data Service (SND) for an indefinite period of time. These data will be available for scientific study by researchers.
• There is a possibility, although it is unlikely, that certain information (such as age and study program) can be combined in a way that could identify you. Such information will therefore be aggregated before data is made available to other researchers. For example, study programs will be coded so that only information about the faculty is known. Age will be grouped. Access to data will only be given to researchers after their application has been approved and a confidentiality agreement is in place.
• The results of the study will be published in scientific journals.
• We will make every effort to ensure that no participant can be identified in the survey results or in any publication based on the survey.
Your rights
As long as we can identify you in the results of the UmU-Barometer (your answers in the survey), you have the right to dispute the use of your personal data. You can request a so-called register extract and have your information disclosed in electronic format at an administrative cost. You also have the right to transfer your personal data to another personal data controller. In certain circumstances, you can request data to be deleted, have incorrect information corrected and request restrictions in the processing of your data and object to your personal data being processed. Once data, such as your email, has been deleted, it will no longer be possible to delete the information you have given us. You can read more about your rights on Datainspektionen's website, https://www.datainspektionen.se/vagledningar/for-dig-som-privatperson/for-medborgare—dina-rattigheter2/.
If you believe that your personal data has been processed incorrectly, you can submit a complaint to Datainspektionen, https://www.datainspektionen.se/vagledningar/for-dig-som-privatperson/klagomal-och-tips/.
Who is Responsible?
Professor Mikael Hjerm at the Department of Sociology is the survey coordinator. Other participating researchers are Associate Professor Maureen Eger, Associate Professor Andrea Bohman and Dr. Jeffrey Mitchell, all members of the Department of Sociology at Umeå University.
Which organizations are involved?
The Department of Sociology and Umeå University are responsible for storing your answers.
What gives us the right to collect personal data from you?
The legal basis for the UmU-Barometer is that the survey is a task that is carried out in the public interest and that is necessary for research and archiving purposes in accordance with the Data Protection Regulation and national legislation.
Umeå University is responsible for personal data processing. Contact information for Umeå University is Umeå University, 901 87 Umeå, registrator@umu.se, 090-786 50 00. Umeå University has appointed a data protection officer. The Data Protection Officer can be reached at pulo@umu.se or via the university's switchboard 090-786 50 00.
You can also contact the person responsible for the research project:
Mikael Hjerm, Sociologiska institutionen, Umeå Universitet,
E-post: mikael.hjerm@umu.se
Telefon: 090 786 95 17
National Data Protection Authority:
Adress: Datainspektionen, Box 8114, 104 20 Stockholm
Telefon: 08 657 61 00
E-post: datainspektionen@datainspektionen.se